15 Nov

Review: WordCamp Seattle 2017

Eyes wide open, I attended my first WordCamp event on November 4th & 5th in Seattle. I was immediately impressed by how well organized the event was, from check-in to departure. But even more impressive was the quality of the speakers and the timely and relevant topics that were discussed.
What is WordCamp?
WordCamp is a conference for WordPress users and developers of all levels to meet and share ideas.
If you're interested in building your own WordPress website, charged with managing your company's website, or you are a WordPress developer with years of experience, WordCamp is for you.
WordCamp Seattle
At WordCamp Seattle, the seminars included wide-ranging topics. For beginners there were seminars like "Learn to Use your WordPress Website" and "Design Tips for Non-designers". More advanced topics included "Get Google to Love your WordPress Website" and "Gutenberg & the Future of WordPress".
Onsite Vendors
Hosting companies like Bluehost, Pantheon, Godaddy, and Dreamhost were represented as well as other big players like SiteLock and WooCommerce.
It was the first time I had the opportunity to speak to a Bluehost rep face-to-face, even though I had spoken to their telephone tech support team dozens of times over the past five years. I conversed directly with the Bluehost developer who programmed their new cpanel.
All the vendors had booths set up and were eager to engage and answer tech related questions. Fun giveaways included T-shirts, sunglasses, web cam covers and swag bags. Bluehost even had a drawing for a 48" Vizio TV.
My Fab Five
The conference included both seminars and "hands-on" workshops. Since there were three or four held concurrently, I recommend choosing the ones you want to attend in advance.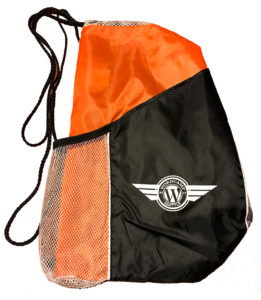 From the seminars & workshops I attended, these are my fab five:
Pixel Imperfect: A Practical Approach to Responsive Design, by Michelle Schulp
The Price is Wrong, by Nathan Allotey
Get Google to Love Your WordPress Website, by Kori Ashton
Gutenberg & the Future of WordPress, by Morten Rand-Hendriksen
Workshop: 8 Ways to Make Sure You Keep Blogging Week After Week After Week, by Sharon Ernst
Pixel Imperfect: A Practical Approach to Responsive Design
This "Pixel Imperfect" seminar, by Michelle Schulp of MarkTime Media, presented numerous insightful concepts and design tips. From a designers point of view, she said our job is to "define the problem" and "find the solution". Solution strategies include establishing patterns, using mood boards, style tiles and proto-typing to create consistency across all marketing communication.
The Price is Wrong
Nathan Allotey, founder of InFocus Media, started by asking web developers, "Are you charging enough for your services?" He shared his pricing journey and outlined four different pricing strategies for design agencies, hourly, flat-rate, value-based and price anchoring.
Nathan offered great "gems" during his presentation. My Favorites were:
"You are valuable! If you don't give yourself a raise, who will?"
"The only gage a person has (regarding price) is what they paid in the past'."
"Don't allow your fears or anxiety limit your income."
Ask yourself the question, "How much are my websites worth?"
"When you price too low, you run the risk of people not taking you seriously."

He suggested some ways to answer the question, "How much does a website cost?" Answer: "How much does a house cost?" It depends.
He also suggested offering clients two different pricing options, "Would you like to pay hourly or a flat fee? Then let the customer choose."
Get Google to Love Your WordPress Website
Right out of the gate, Kori Ashton, Webtegrity, explained how Google indexes sites the same way that we read, left to right and top to bottom.
Did you know that the page title is more important than your site's URL? She proceeded to go right down a typical website's home page explaining the importance of each item and it's relevancy to Google.
The underlying principle is: Google has to understand you. Tips to help Google understand you include:
Adding tags to each menu item
Using keyword tools like: Google Keyword Planner, Moz, Google Trends, Yoast, SEM Rush
Using anchor text
Adding tags to images and links
Adding your location in page titles
Claiming your listings (Moz local)
Adding a robots.txt file
Adding a sitemap
Encouraging online reviews
Transcribing YouTube videos and place the transcription below the video on your website
Submitting your YouTube transcription to Google and they will translate it to other languages for you
Gutenberg & the Future of WordPress
If Morten Rand-Hendriksen looks familiar, it might be because you've seen one of his 60+ lynda.com videos on WordPress, web and user interface design. He's also a senior staff instructor at LinkedIn Learning.
Morten gave a much anticipated talk and live demo on Gutenberg and the future of WordPress. Gutenberg is the next gen user interface that will replace "Tiny MCE" inside the WordPress dashboard, those are the familiar rows of icons above the large blank content box that resembles a word processor.
Gutenberg is a new editing experience. It uses moveable blocks of content to build pages, in some ways similar to page builders like Divi and Visual Bakery.
Morten's live demo showcased Gutenberg's functionality and current features. He explained the benefits of this new approach long term, and overall I left feeling encouraged. Change is never easy, and WordPress is keenly aware that they need to get this right. They have always put an emphasis on the need to be backwards compatible.
Gutenberg is a work in progress and there is a Gutenberg plugin available for download and testing, although it is strongly recommended not to use it on a live site just yet. As a WordPress user or developer, now is your chance to test Gutenberg, go to GitHub, file a ticket and let your voice be heard.
At the time of this writing, the current version of WordPress is 4.9. My understanding is that Gutenberg will be integrated into the core of WordPress 5.0, some time within the next 6 months to a year.
Article by Morten Rand-Hendriksen
Workshop: 8 Ways to Make Sure You Keep Blogging Week After Week After Week
Sharon Ernst's hands-on workshop provided several practical tips on blogging that could be put to use immediately. She started out by asking the question, "Why don't we blog?" Her answer, "it's low priority, we only blog in our spare time, sometimes we don't feel like it and it doesn't make money (right away)."
She then asked, "Why should we blog?" Because it "shows expertise, builds credibility, helps with SEO, and therefore prospects."
What were her 8 ways to keep blogging?
Know your goal (ie. increase readership by x% in 30 days?)
Know your audience
Establish your voice (teacher, peer, funny guy)
Always have a topic
Use shortcuts
Discover how you like to write
Let go of expectations
Schedule it

She sequentially went through each one, explaining in detail. Then came the workshop part of her session. We had about 15 minutes to fill out a worksheet with these categories:
Describe your goal
Describe your audience
Describe your voice
List 10 topics you could blog about fairly easily
State the day and time you are going to blog each week
Describe how and where you will blog
How will you make sure each post is proofread before publishing?
How will you reward yourself each week for getting your post done?
Access the Content
If you couldn't attend WordCamp, you can still get access to much of the content online. Video recordings of each seminar will be uploaded to WordPress TV, but at the time of this writing, they weren't available yet. Here's where they will appear once available: https://wordpress.tv/event/wordcamp-seattle-2017/
Summary
In summary, the new information gained from WordCamp was well worth the $40 price of admission for the two-day event.
I noticed that presenters often attended each other's seminars. For me, this confirmed how valuable the information was.
Some of the principles we learned we will put to work immediately, others we will roll out over time. The insights gained from these seasoned professionals are certain to impact our business in a very positive way!
P2 Graphic Design founder Steve Pillitu describes the experience of attending his first WordCamp event. Steve is a designer, developer and business owner, and this article was written from that perspective.